Able Hardware is a shining beacon in the world of wire products manufacturing. With their meticulous attention to detail and commitment to quality, they have set the industry standard for excellence.
Their innovative approach to product development has propelled them into a leading role among manufacturers of all types of wires and related goods.
We will explore Able's history, focus on their current success, analyze their impact within the industry, and suggest potential directions for future growth.
Table of Contents
Wire Products Manufacturer in China
Able Hardware is a wire products company based in China. They produce an extensive range of wire forms and components for various industries, including supermarkets, shops, and medical and industrial equipment.
As a custom wire form producer they are able to design and manufacture parts according to the specifications provided by their customers. The use of high quality materials combined with modern production techniques allows Able Hardware to offer superior product performance as well as fabrication cost-savings for its clients.
Their engineers have decades of experience designing and producing customized solutions that meet customer needs while adhering to industry standards. In addition to providing standard and custom products, Able Hardware also offers value-added services such as onsite installation support and technical assistance throughout the life cycle of the product.
With their commitment to excellence, they strive to become one of the leading suppliers in the worldwide market.
Standard Wire Products
For wire product manufacturers in China, the availability of standard products is an essential part of their business. From metal wires that can be used in a range of industries to all types of shapes and sizes for use in various applications, these companies have become reliable suppliers of quality products.
As such, they have developed innovative solutions and services designed specifically for customers who are looking for something specific. Wire product manufacturers are able to provide a wide variety of options when it comes to finding the perfect solution for any given application.
By utilizing advanced computer-aided design (CAD) software, they can create custom designs tailored to meet exact specifications while also ensuring their customers receive top quality materials. Additionally, many offer additional services such as installation and maintenance support, allowing them to ensure customer satisfaction with each purchase.
No matter the type or size of the project being undertaken, Chinese wire product manufacturers are well-positioned to deliver excellent results quickly and efficiently. Through their commitment to providing high-quality products at competitive prices backed by exceptional service, they strive to exceed expectations on every order placed with them achieving success through superior craftsmanship and expertise in the industry.
Commercial Wire Products
Able Hardware is a wire products manufacturer specializing in the custom fabrication of wire racks and other structures for commercial use.
We are ISO 9001:2015 certified for quality assurance, guaranteeing that all our products have gone through rigorous testing to ensure their durability, consistency, and safety.
Our clients span across various industries such as automotive, telecommunications, construction, and industrial materials.
Our comprehensive range of services includes design consultation and prototyping.
In addition, we also provide solutions for manufacturing automation processes specific to each product's specifications with precision accuracy using 3D modeling software.
This allows us to create high-quality end results tailored to meet the needs of customers quickly and efficiently while providing cost savings due to reduced material waste.
We strive to provide excellence by delivering top-notch customer service along with best-in-class craftsmanship on every project we undertake.
From start to finish, Able Hardware strives for perfection and provides customized solutions for any type of wire product application you may require.
Industrial Wire Products
Little is known about the production of industrial wire products beyond its commercial counterparts.
But, what may come as a surprise to some is that Able Hardware has emerged as the go-to wire forms producer for many industries.
The company specializes in custom wire material handling and offers custom wire shelves for a variety of industrial applications.
From design & prototyping of wire products to full scale manufacturing processes, Able Hardware stands out from other companies due to their attention to detail and adherence to tight deadlines.
Their innovative solutions aim to bring practicality and efficiency into each project without sacrificing quality or safety standards.
Able Hardware's success speaks volumes regarding its reputation in the industry; it is committed to providing cost effective solutions while maintaining the highest level of customer satisfaction.
By offering comprehensive services at competitive prices, they have established themselves as an indispensable partner when it comes to industrial wire product needs.
Wire Rod Products
Able Hardware is a wire product manufacturing company with an extensive selection of products, including wire baskets. Customers can choose from a variety of types and finishes for their desired product. Our advanced wire bending technology allows us to customize the shape of each basket according to our customers specifications.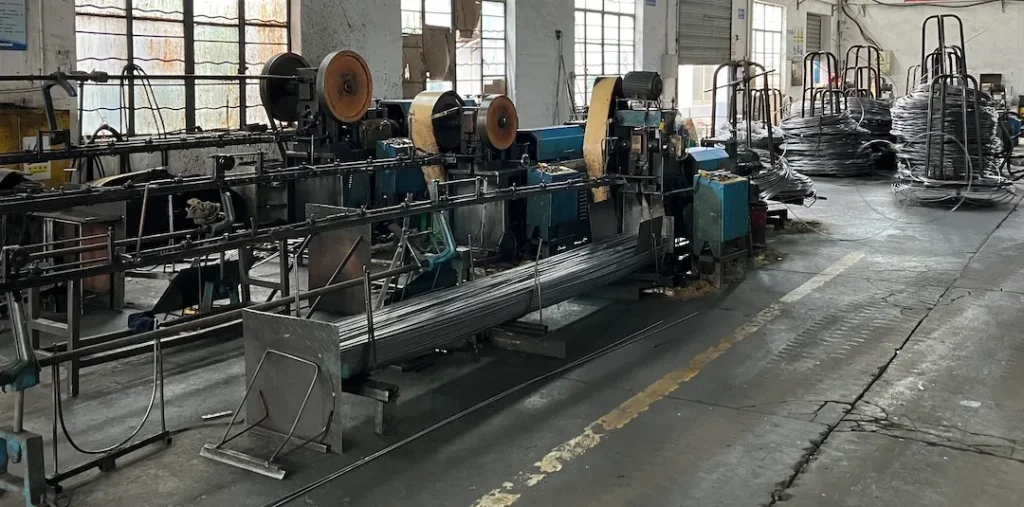 We offer several different options in terms of materials and designs:
Types of Wire: We have various sizes and shapes of wires available depending on customer needs.
Variety of Finishes: From electroplating to powder coating, we provide many different finishing options that meet all kinds of demands.
Advanced Wire Bending Technology: Using state-of-the-art equipment, we are able to precisely bend metal into any shape requested by our customers.
At Able Hardware, our top priority is providing excellent customer service throughout every step in the production process. Whether it's selecting materials or making sure design requirements are met, our team works hard to ensure that your finished project meets expectations without compromising quality or safety standards.
Wire Drawing Products
Are you looking for the ultimate wire drawing products? Look no further than Able Hardware!
We are suppliers of custom wire drawing products that can meet your needs in any shape or size. Our advanced fabrication equipment allows us to craft wire with a variety of diameters and shapes, so we have something for every project. Plus, our team is dedicated to providing excellent customer service and ensuring each product meets the highest quality standards.
At Able Hardware, we understand that time is money which is why we work efficiently without sacrificing quality. Our fast turnaround times mean projects get completed on-schedule and within budget while still delivering superior results.
No matter how big or small your order is, rest assured it will be handled professionally and promptly.
We believe in giving back to our community whenever possible this means investing in local businesses and creating jobs for our neighbors. When customers shop at Able Hardware, they know their purchase supports a company committed to making meaningful contributions to its surrounding area.
So come check out what our team has to offer today!
Wire Mill Products
Able Hardware is a wire products manufacturer that specializes in the production of both wire drawing and wire mill products. The company has an extensive range of carbon steel wires which are produced using advanced manufacturing equipment. This ensures that Able Hardware can offer customers various kinds of wire shapes with superior capacity for high-quality wire product output.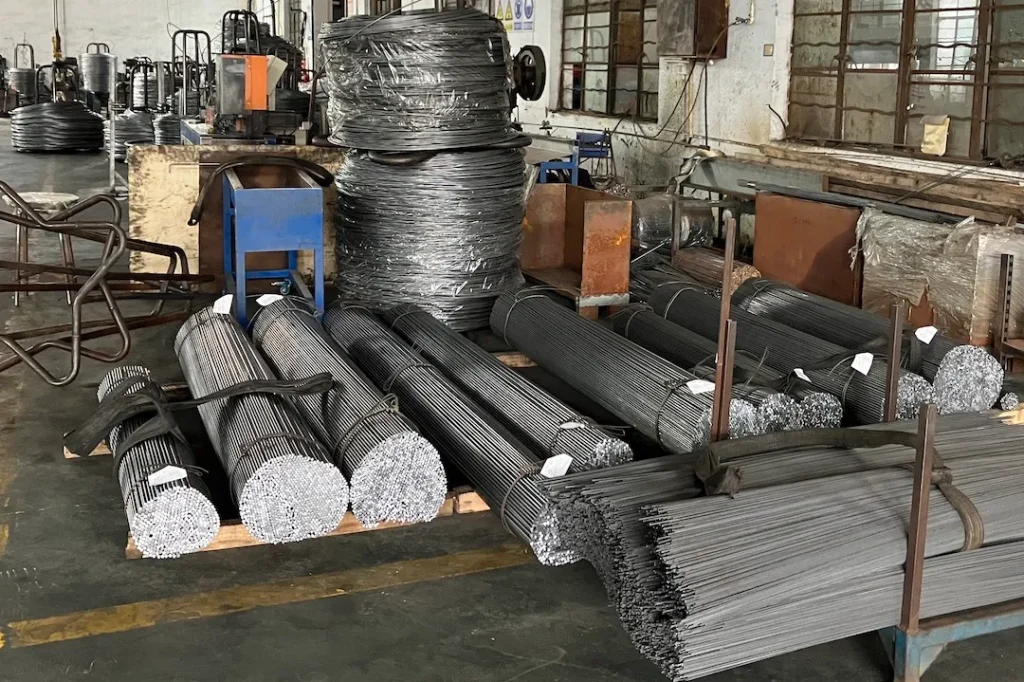 The customer service team at Able Hardware provides comprehensive support to all its clients, helping them to find cost-effective solutions while ensuring they get the most out of their investment in quality materials and services. Additionally, the company's innovative approach towards technology allows them to deliver customizations according to their client's specific needs and requirements.
The expertise in handling different types of metal material combined with cutting edge technologies makes Able Hardware one of the leading companies in this field globally. Its commitment to delivering reliable, consistent results for its customers means it is well positioned as one of the top providers of wire mill products on the market today.
Precision Wire Products
Able Hardware is a leading manufacturer of precision wire products. Our selection includes a variety of small, medium and large diameter wires for any desired outcome.
We strive to create quality wire products through the use of state-of-the-art technology in design engineering, production processes, and material selection. We are committed to providing customers with high-quality wire forms that meet their exact specifications.
Our experienced engineers specialize in the creation of intricate wire workings using various types of materials including galvanized steel and stainless steel. In addition, we provide custom designed solutions when required by our clients.
Our commitment to excellence allows us to be a premier distributor of wire products across many industries throughout North America. We offer unmatched customer service which has enabled us to maintain long-term relationships with our partners and customers alike.
With decades of experience behind us, Able Hardware is the go-to supplier for all your precision wire needs.
Fabricated Wire Products
Able Hardware is a wire products manufacturer specializing in fabricated wire products. Our fabrication process involves cutting to custom sizes, bending and forming of metal materials into complex wire apparatus for customized applications. We work with multiple diameters of wires ranging from small gauge to large diameter cables.
Additionally, Able Hardware fabricates intricate and complicated wire forms that require precision tolerances while meeting customer requirements at all times. We strive to provide the highest quality craftsmanship with our specialized team of experienced technicians who are dedicated to producing superior results consistently. Our stringent quality control measures ensure every step is done correctly on each job we complete so our customers can be sure they're receiving the best possible product available.
At Able Hardware, we understand how important it is to finish projects quickly and efficiently without sacrificing any quality:
Fast turn-around times
Professional grade tools
Quality assurance testing
Our commitment to excellence guarantees satisfaction for every project regardless of its complexity or size.
Wire Shelving Products
Able Hardware is a leading wire products manufacturer and specializes in the production of wire shelving products.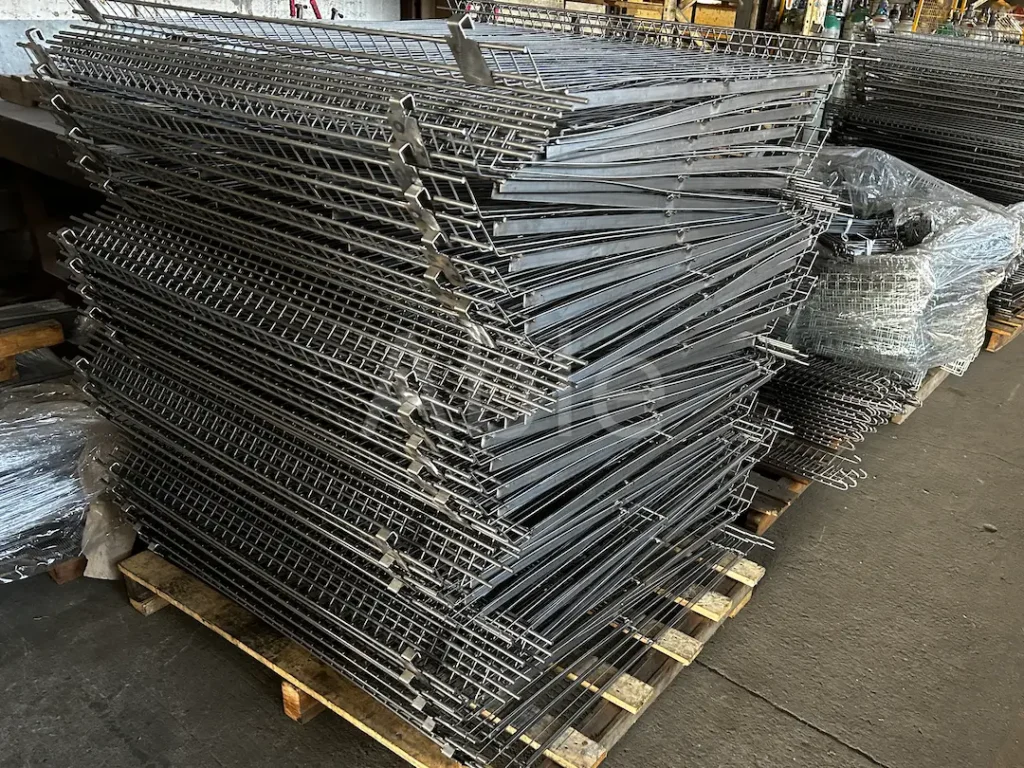 Each product is constructed with rigorous attention to regulatory requirements, ensuring safety for all purchasers.
All models feature varied wire diameters that can accommodate different storage needs, allowing customers to customize solutions for their individualized preferences.
In addition to providing quality products, Able Hardware also offers attentive customer service when assisting customers in determining their ideal shelf solution.
The team at Able Hardware is committed to delivering an exceptional experience by staying on the edge of innovation and offering cost-control options tailored to each customer's budget.
Through its commitment to excellence, Able Hardware continues to be a top supplier of durable wire shelving products with superior performance capabilities.
Customers trust this company as they are confident it will deliver reliable products that meet their needs while adhering to stringent industry standards.
Wire Products Racks
Able Hardware is a leading wire products manufacturer. We provide customers with the most comprehensive selection of wire products and supplies. Our wide variety of materials, shapes, and sizes make it easy for customers to find exactly what they need. Additionally, our competitive pricing ensures that our clients get the best value for their purchase.
At Able Hardware, we strive to maintain a customer-centric approach when delivering quality service. From product design to delivery, we are committed to offering top-quality services tailored to meet individual needs. To ensure maximum satisfaction from every client's experience, we take pride in providing expert advice on selecting the right product and offer timely support throughout the process.
We guarantee that all our products are made of premium grade material with superior craftsmanship and attention to detail. Furthermore, each item is rigorously tested before being shipped out so you can be sure of its safety and performance.
Our commitment to excellence makes us the perfect partner for your next project or repair job:
Comprehensive range of wire products supply
Wide variety of materials available
Competitive pricing
Top-quality service
Whether it's an industrial setup or home use, trust Able Hardware to deliver exceptional results every time!
Wire Basket Products
To continue the discussion of Able Hardware's wire products, this section will focus on its extensive line of wire basket products. These baskets are like intricate works of art, crafted with precision and finesse to create a variety of shapes which range from standard cubes to complex polygons. The table below outlines some features that characterize these precise creations.
| Feature | Description |
| --- | --- |
| Wide Range | Variety of sizes and shapes available |
| Time Delivery | Quick manufacture turnaround |
| Corrosion Resistant | Durable materials used |
| Service Supplier | Excellent customer service |
| Auxiliary Fabrication Services | Additional services offered |
The high quality construction and reliable material selection allows for corrosion resistance in even the most extreme environments. Customers can choose from a wide range of styles, dimensions and designs to meet their exact needs. Furthermore, Able Hardware provides exceptional customer service by offering timely delivery as well as auxiliary fabrication services when required. Altogether, customers receive an unbeatable combination of product choice, durability and excellent customer support. With all these benefits it is no surprise that Able Hardware remains one of the leading suppliers in the industry today.
Able Hardware is a wire product manufacturer that specializes in metal fabricator for high-precision production. Their focus on construction materials has extended to consumer appliance, such as refrigerators.
The company provides custom display solution engineering for refrigerator shelves. This includes comprehensive design and testing of shelving systems that meet the requirements of their customers.
The team at Able Hardware works diligently with each client to develop innovative configurations that are specifically tailored to individual needs. These customized solutions may include specific spacing, weight capacity, shape, or size constraints based on particular customer requests.
Each project is undertaken thoughtfully and thoroughly by experienced engineers and technicians who specialize in creating unique designs optimized for safety and performance.
By leveraging cutting edge technological advancements, they are able to ensure precision results while maintaining cost effectiveness throughout the entire process.
With every job they strive to provide superior service through open communication with clients ensuring satisfaction with the final product delivered.
Able Hardware is a wire products manufacturer proudly providing customers with an expansive range of stock and custom-made freezer basket solutions.
Our broad selection meets strict industry standards, including those set by original equipment manufacturers (OEMs) while also offering efficient delivery periods.
Our freezer baskets come in various sizes to suit any application, ranging from miniatures suitable for countertop display cases to larger models that can be used inside industrial freezers.
Made out of strong galvanized steel frames, they are designed to last and withstand even the harshest conditions.
With our diverse offerings, Able Hardware has firmly established itself as a trusted partner in the freezer basket market.
Our customer service team provides invaluable support when it comes to selecting the right freezer baskets for each application or helping identify potential cost savings opportunities during production runs.
We understand the importance of fulfilling orders on time and strive to meet every deadline without compromising quality.
Welded Wire Products
Able Hardware is a manufacturer of welded wire products. For large-scale projects, Able Hardware offers an extensive selection of delicate equipment and construction products manufacturing tools. Additional tools are also available that can help with environmental sustainability projects.
The following table illustrates the range of services provided by Able Hardware in relation to welded wire products.
Throughout the years, Able Hardware has established itself as a leader in providing high quality and reliable welding solutions for professionals across the globe. The company provides both standard and customized solutions depending on customer demands, delivering innovative designs tailored to specific needs. Customers trust Able Hardware due to their commitment to excellence and dedication towards creating long-term relationships with customers through hard work and innovation.
Kitchen Wire Products
The world of kitchen wire products has been a staple in commercial construction markets for decades. Its place as an essential component to existing projects and adaptive new ones is undeniable. With the rapid advances of technology, this industry's capacity to serve many different functions from automotive needs to consumer products have only become more pronounced over time.
Here is a list of five key points that are important to consider when it comes to purchasing these items:
Quality materials used
Detailed delivery information
Variety of product styles available
Customization options for specific application requirements
Expert guidance provided during entire process
This illustrates why kitchen wire products can be indispensable components in so many aspects of modern life. It also speaks volumes about their versatility and dependability two characteristics that make them valuable investments across all sectors.
Ultimately, exploring the possibilities presented by this type of item provides countless opportunities for growth and success.
Wire Forming Products
Able Hardware is a wire products manufacturer that specializes in wire forming. The company offers a wide range of services, including custom designs and extra tools to meet customer needs.
Able Hardware has been successfully providing these high-quality products for agricultural and commercial applications since its inception. The company's commitment to excellence has enabled it to maintain a positive business status in the industry.
By investing significant resources into research and development, they have consistently developed innovative solutions which comply with stringent safety standards. In addition, they are committed to delivering outstanding customer service by offering comprehensive product distribution networks as well as competitive prices on all their products.
Able Hardware has established itself as one of the leading producers of quality wire forming products due to their dedication to innovation and customer satisfaction. Their commitment to continually improve their processes ensures that customers receive only the best quality materials and components at an affordable price.
With this steadfast focus on quality assurance, the company continues to be an invaluable partner for clients seeking reliable wired products for both residential and commercial use.
Wire Guard Products
Able Hardware is pleased to introduce its latest line of wire guard products. Going beyond common expectations, our top-notch collection offers a variety of options that will surely accommodate all needs.
We understand the importance of safety and security when it comes to wiring projects. Thus, we have crafted robust solutions with an emphasis on quality assurance:
Durability: All guards are made from strong materials for long-term usage in any environment.
Customization: Our experienced team can work with you shoulder to shoulder and design customized guards tailored specifically to your project's parameters.
Protection: Every guard promises reliable protection against physical hazards such as dust, debris, moisture, and more.
Our exclusive selection goes above and beyond industry standards enabling contractors and DIYers alike to be sure their wiring job is done right the first time around!
With over 20+ years of experience in the industry, Able Hardware ensures that these wire guard products offer superior performance each time they're used.
Wire And Metal Products
Able Hardware is a wire and metal products manufacturer that specializes in the fabrication of custom-made parts. The company has been operating for over 30 years, producing high quality items to meet customer demands.
By using advanced technology, Able Hardware can produce components quickly with precision accuracy and repeatability. The company's signature product line includes aluminum extrusions, steel tubing, stainless steel plates, angle iron bars, galvanized sheet metal, welding rods and more.
With their extensive selection of materials and sizes available, customers have access to an array of choices when specifying what they need for their projects. Furthermore, Able Hardware offers comprehensive services such as cutting, grinding and machining to ensure each component meets exact specifications.
All of these processes are executed by experienced personnel who understand the needs of both residential and commercial clients alike. Utilizing specialized machinery like CNC lathes or presses allows them to produce higher volumes at lower costs while still delivering reliable results.
This ensures quick turnaround times on orders without sacrificing quality control standards. As a result, Able Hardware is able to provide customers with superior products backed by exceptional customer service.
In addition to standard wire and metal products, Able Hardware is proud to offer its selection of wire rope cable assemblies. These custom solutions are designed with versatility in mind; they can be used for a vast array of applications ranging from security fences and guardrails to load-bearing structures and more.
Utilizing top-notch materials and rigorous quality control standards, our team is able to manufacture cable assemblies that meet industry standards and exceed customer expectations.
Moreover, Able Hardware provides a variety of customization options for these assemblies. Customers can choose from different types of wire rope such as galvanized steel or stainless steel, select the proper diameter, and even specify custom configurations to fit their needs.
With this steadfast focus on quality assurance, the company continues to be an invaluable partner for all types of projects.
Custom Wire Products
The theory that custom wire products can help to improve the efficiency of any manufacturing process has been widely accepted. While there is evidence to suggest this may be true, it remains to be seen how much a customized wire product could actually benefit an organization:
Customized wire products are tailored precisely around the specific needs and requirements of each individual application.
The ability to shape or form wires into complex shapes offers greater flexibility in design options for customers.
These specialized materials enable manufacturers to create more efficient parts with fewer resources and shorter lead times than traditional processes allow.
As such, investing in custom wire product solutions presents companies with numerous advantages over conventional approaches, including cost savings on labor costs, improved quality control and time-to-market reduction for new projects.
By leveraging these benefits, businesses can increase their productivity while reducing their overall expenses and increasing customer satisfaction levels at the same time.
Wire Products Design
Able Hardware is a leading manufacturer of wire products. Our expertise in design and production has resulted in reliable and quality products for our customers.
The team at Able Hardware takes pride in creating innovative designs that have the customer's needs as top priority. We believe in producing high-quality products that are efficient and cost effective.
Our experience with cutting edge technology allows us to produce wire products efficiently while maintaining precision, accuracy, and consistency throughout the entire manufacturing process. The end result is an aesthetically pleasing product that meets or exceeds all industry standards.
Wire Products Price
Able Hardware is renowned for its diverse and high-quality selection of wire products. The company offers competitive rates to ensure that customers are able to purchase the items they need without overspending.
Customers can find a variety of options in both standard sizes and custom orders, which provide them with an increased flexibility when selecting their desired product.
The pricing structure of these products differs depending on factors such as size, material type, quantity, and any applicable taxes or fees. For example, if a customer wishes to purchase a large quantity of galvanized steel wires at once then they will receive a better rate than if they purchased one by one.
Furthermore, Able Hardware often has promotional discounts available during certain times of the year; this allows customers to take advantage of additional savings.
It should be noted that shipping charges may apply when purchasing from Able Hardware depending on the location and weight of the item being shipped. However, despite these extra costs associated with buying online, customers can rest assured knowing that all purchases come with quality assurance guarantees and helpful customer service staff who are available to answer questions about specific products or prices as needed.
Wire Product Manufacturing
Having explored the current price of wire products, it is now necessary to delve further into how these products are manufactured.
The process starts with a complex production network that involves both manual and automated techniques. As intricate as this system may be, its efficiency can be likened to clockwork; each step in the chain working seamlessly together to create something truly remarkable.
The manufacturing process begins with raw materials being transformed using heat treatments or cutting methods. This is done to shape the material according to precise specifications before it moves onto the next stage.
For example, many steel wires require annealing prior to forming them into specific shapes. During this phase, expert workers must closely monitor temperature levels and other variables for optimal results. Additionally, any imperfections at this point must also be removed manually by skilled staff members who utilise a variety of tools and equipment.
In essence, what we have here is an intricate combination of machinery, human skill and labour all coming together like pieces of a puzzle in order to produce outstanding wire products that meet industry standards of excellence.
Through effective planning and meticulous execution, Able Hardware has been able to consistently deliver quality items year after year – a testament to their commitment towards providing customers with top-notch goods without fail.
Frequently Asked Questions
How Long Does It Take For Custom Wire Products To Be Ready For Delivery?
The time it takes for custom wire products to be ready for delivery depends on the complexity and size of the order, as well as the availability of raw materials.
Additionally, any necessary engineering or design processes can add significant time before a product is ready to ship.
Generally speaking, orders can range from a few days to several months depending on these factors.
What Safety Standards Do Able Hardware'S Wire Products Adhere To?
Able Hardware's wire products adhere to a variety of safety standards.
These include the requirements set by UL (Underwriters Laboratories) and CSA Group, as well as national electric codes in the USA and Canada.
Further, Able Hardware provides testing services such as destructive physical analysis, pull tests, and tensile strength tests to ensure that their products meet or exceed specific performance criteria.
What Kind Of Maintenance Is Required For Wire Products?
A wire product is like a living organism; it requires regular maintenance to keep running at its best.
To maintain these products, one must stay aware of any signs of wear and tear such as rust or corrosion.
Furthermore, the wires should be regularly inspected for breaks or fraying that could potentially lead to dangerous accidents.
Other elements such as insulation materials need to be replaced if they become worn out in order to ensure proper functioning and safety.
Regular cleaning with appropriate solvents also helps guarantee optimal performance by preventing buildup of dirt and debris which can otherwise decrease efficiency.
Taking all these steps ensures that your wire products remain reliable and secure over time.
Does Able Hardware Provide Installation Services For Its Wire Products?
Able Hardware provides installation services for its wire products.
This includes both onsite and remote installations, depending on the product in question and the customer's needs.
The company offers a range of options to ensure that the installation process is efficient, cost-effective, and safe.
It also has technical support available to answer any questions customers may have about how to install their wire products correctly.
Does Able Hardware Offer Warranties On Its Wire Products?
It is not uncommon for customers to inquire about the warranties offered on products, including wire products.
Able Hardware offers a wide range of warranty options depending on individual customer needs and product type. Coverage includes parts replacement, repair labor costs, and service call fees.
Additionally, customers will be provided with detailed information regarding their coverage when they purchase from Able Hardware so that they can make an informed decision.
Conclusion
The craftsmanship and commitment to quality of Able Hardware's wire products are unquestionable. Their dedication to offer superior quality is reflected in their delivery timelines, safety standards, maintenance, installation services and warranties.
With each product crafted with precision and care, customers can rest assured that they will receive the best possible solution for their needs.
As the sun sets over a construction site full of workers installing metallic wiring from Able Hardware, one cannot help but admire how these intricate pieces come together like puzzle pieces to create something beautiful—a testament to the strength and durability of their products.
This symbolizes not only the reliability of Able Hardware's products but also its promise of providing secure solutions for every customer need.
More Custom Wire Products