The demand for trolleys has grown significantly over recent years, with many industries requiring them for everyday use. From transportation to retail stores and warehouses, trolleys have become an essential part of modern day operations.As the world's manufacturing hub, China has become renowned for its ability to produce goods at a rapid pace and with precision. Manufacturers in China have responded to this increased demand by introducing new designs and technologies to keep up with global trends and remain competitive.
In order to understand how Chinese trolley manufacturers operate, it is important to examine their production systems, processes, and quality control measures. Additionally, able hardware will discuss the strategies used by Chinese companies to stay ahead of foreign competition while maintaining their own standards of excellence.
Table of Contents
Logistic Roll Trolleys are a type of trolley that is used by many industries to help with the efficient and safe transportation of goods. These trolleys have become increasingly popular due to their ability to facilitate the movement of heavy loads over short distances.
When choosing a Chinese manufacturer for logistic roll trolley, the most important factor to consider is their production process and quality control measures. It's important to ensure that the company you choose has a well-developed manufacturing system with rigorous quality controls in place.
Able Hardware manufactures a logistic roll trolley designed for professional use below.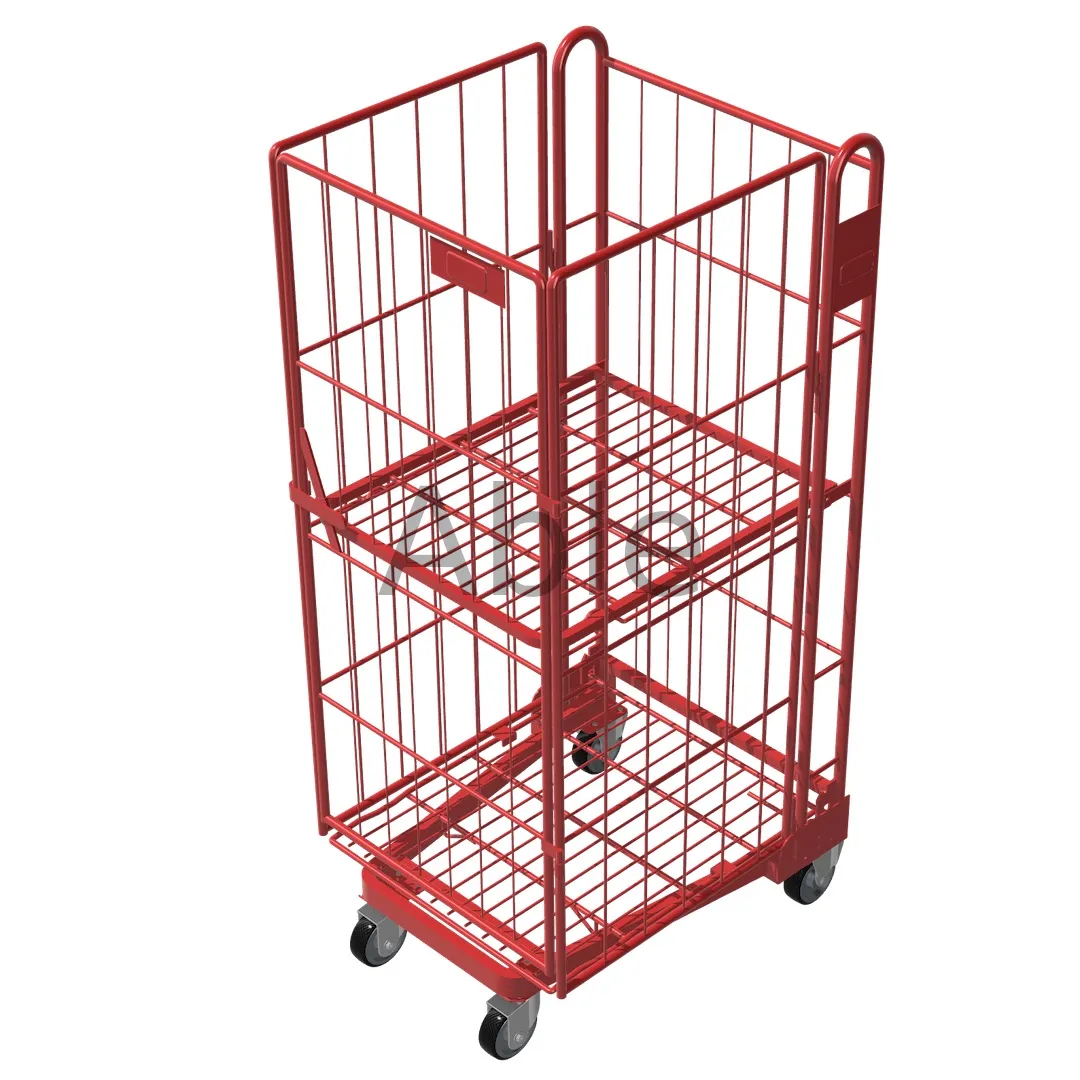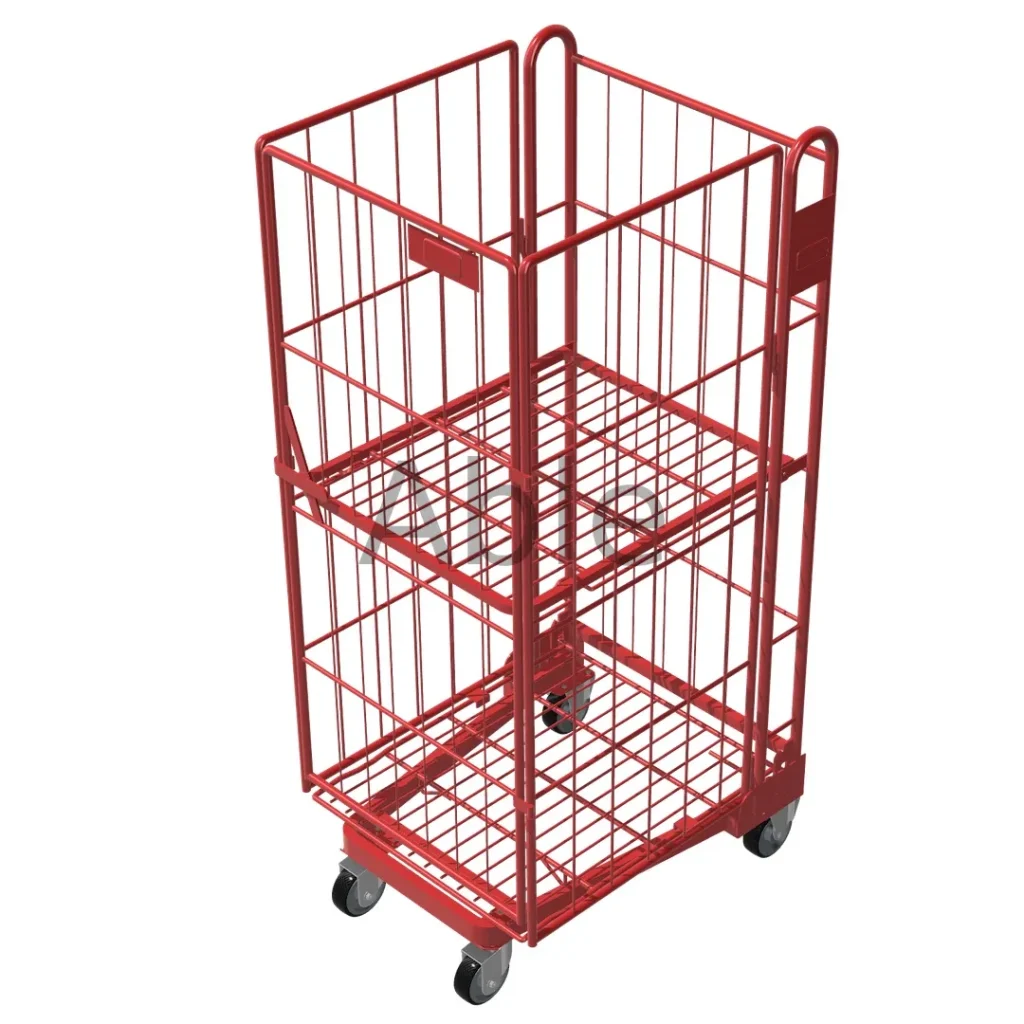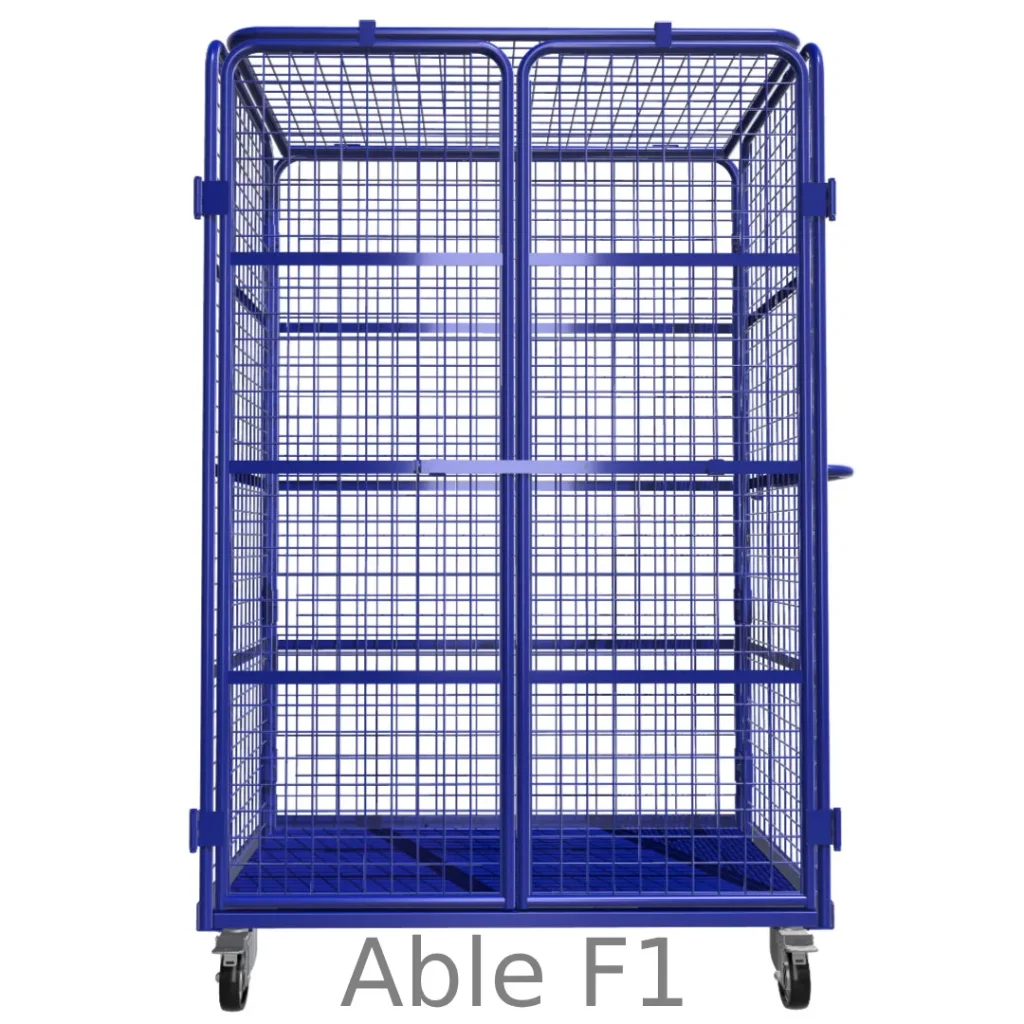 Folding trolley carts are a popular type of trolley that have gained popularity due to their compactness and ease of storage. These trolleys are perfect for individuals who live in small apartments or those who frequently travel and need a portable means of transporting goods. The folding mechanism of these trolleys enables them to be easily stored in small spaces, making them ideal for urban dwellers or students who need to move frequently.
Chinese manufacturers have responded to the demand for folding trolley carts by developing new designs and materials that make them more durable and lightweight. They use high-quality steel and aluminum alloys to construct the frame, ensuring that the trolley can handle a significant amount of weight while still being easy to maneuver.
In addition, Chinese manufacturers have introduced innovative features such as adjustable handles, removable baskets, and locking mechanisms that make folding trolley carts even more versatile and convenient.
Supermarket Trolley
Supermarket trolleys present an essential part of the shopping experience. In the global shopping trolley market, China has emerged as a major player in terms of production capacity and quality. Chinese manufacturers offer a wide range of products, ranging from light-weight plastic trolleys to durable steel ones. Most Chinese trolleys are four wheeled and come in various size configurations to suit different shops' needs. The maximum load capacity for most of these trolleys is up to 200 kilograms (440 lbs). Prices for Chinese supermarket trolleys vary depending on the material used, size and features offered. However, in general they are more affordable than those from other countries. Furthermore, with technological advancements in production methods, Chinese manufacturers are able to produce high-quality supermarket trolleys at competitive prices. This has enabled them to establish a strong foothold in the global market for shopping trolleys.
In addition to offering traditional supermarket trolleys, some Chinese manufacturers have developed innovative designs that incorporate modern technologies such as RFID tags or built-in scales. These new designs help improve customer convenience by making it easier to find items and track purchases while reducing checkout times and long queues at the cash register. Moreover, these designs also provide greater security against theft as they can be tracked more easily if stolen or misplaced.
Chinese manufacturers also provide a variety of customization options for their clients including specialized colors and logos that can be printed on the sides or handles of the trolley. This helps create a unique brand identity for supermarkets and other retail outlets that use these customized models as part of their branding strategy. Furthermore, customizing the design also allows retailers to match their store's interior design theme more effectively while providing customers with an improved shopping experience overall.
Overall, Chinese manufacturers offer a comprehensive selection of supermarket trolleys designed according to industry standards while providing clients with multiple customization options to meet their specific requirements within budget constraints. As such they have become one of the leading suppliers of shopping trolleys worldwide due to their superior quality products and competitive prices.
Shopping Trolley
Shopping trolleys are becoming increasingly popular in the Chinese market, with manufacturers offering a range of products to meet customer needs. Overhead wires are used to connect trolleys, allowing them to move easily and safely. In addition, safety features such as overhead brakes and speed controllers can be included to make sure that they operate smoothly and safely.
As a market leader in the production of shopping trolleys, China is committed to providing customers with high quality products. The range of products on offer includes height adjustable shower trolleys, which can be adjusted according to the user's height. This allows users to ensure that their shopping experience is comfortable and safe. In addition, these trolleys come with an adjustable handle for easy manoeuvring around the shopping center.
Manufacturers also strive to provide customers with reliable after-sales service by providing replacement parts and maintenance services. They also offer repair services for any damages caused due to improper use or mishandling of their products. This ensures that customers receive optimal performance from their shopping trolley for many years after purchase.
The combination of quality materials and innovative designs makes Chinese shopping trolleys some of the best on the market today. Their durability and reliability mean that customers can rest assured that they will be able to rely on their purchases for many years into the future.
Transfer Trolley
Transfer trolleys are an important component in many industries, and the quality of their design is essential for the efficient operation of any facility. The load capacity of a transfer trolley is determined by its size, material, and construction. Trolley projects must consider all these factors to ensure proper functioning. For example, aircraft service trolleys are used to transport full size aircraft meal trolleys as well as storage containers and smaller items like medical equipment. These require robust construction with high load capacity and excellent maneuverability. Furthermore, it is important to select materials that provide adequate protection against shock and wear.
In addition to their utility in industrial settings, transfer trolleys also have various applications in hospitality and leisure facilities. For instance, they can be used to conveniently transport a variety of items such as chilled food or ice cubes from one area to another. Trolley coolers are often employed in restaurants or catering services due to their thermal properties which keep food products at the desired temperature for an extended period of time. Furthermore, they can be designed for use in outdoor environments where other types of vehicles may not be suitable due to their potential exposure to adverse weather conditions.
The selection of the most appropriate transfer trolley depends on several factors such as cost effectiveness, mobility needs, safety standards, environmental impact considerations and maintenance requirements. It is important for companies to evaluate each option carefully before making a decision about which type of trolley project is best suited for their needs. In addition, regular maintenance schedules should be established and adhered to ensure optimal performance over time.
Overall, transfer trolleys offer flexibility and convenience when transporting goods or materials between different areas within a facility or between multiple locations. Companies must take into account all relevant criteria when selecting the ideal solution for their operations while also considering budget constraints and other relevant factors that may influence the final choice made by them.
Trolley Cart
The trolley cart is a vehicle of convenience, much like a horse-drawn carriage used in days of old. It carries items large and small, from light parcels to heavy containers. It is common in industry as well as in personal use, and has been a mainstay for centuries.
**Various types of trolleys:**
* **Loading capacity:** Trolleys come with various loading capacities, ranging from 20 kg to 500 kg. The most common types are the 100kg and 200kg versions.
* **Industry developments:** As industry developments have increased, so have the available models of trolley carts. They now come in different sizes, shapes, and colors according to their purpose.
* **Price capacity:** Price capacity varies depending on the type of material used for construction and the design chosen. Steel and aluminum are two popular materials used for building trolleys; both can handle heavier loads than other materials such as wood or plastic at lower prices.
The trolley cart has become essential to many industries around the world due to its versatility, ease of maneuverability, durability and affordable price. Its optimal loading capacity makes it suitable for carrying heavy items up to 500 kg with minimal effort. Due to its portability and affordability, it can be used in many places where traditional carts are not feasible or cost effective. Its use has been increasing over time due to industry developments that allow different size options including the popular 20 kg and 50 kg type trolleys that come at reasonable prices when compared to other materials.
Luggage Trolley
Luggage trolleys are commonly used in airports and hotels for the purpose of carrying heavy luggage. In recent years, they have become increasingly popular due to their convenience and ergonomic design. As a result of increased demand, many companies have developed and manufactured a wide range of luggage trolleys in China.
The Chinese market is full of a variety of luggage trolleys, ranging from foldable trolleys made of lightweight aluminum to those with larger capacity and adjustable heights. The designs vary from simple models to more complex ones with wheels, extended handles and other features. Most of these trolleys are made from high-quality materials such as steel, plastic or aluminum alloys. Some are even equipped with additional accessories such as USB ports or LED lights for increased convenience.
In addition, many Chinese manufacturers offer customizations for their products according to customer specifications. This includes custom sizes and colors as well as various logo printing options for branding purposes. With this level of customization available, customers can easily find the perfect product that meets their requirements in terms of size, weight capacity, features and overall design aesthetics.
The cost associated with these trolleys also varies depending on the model and brand. Generally speaking, they are cheaper than their counterparts from other countries due to lower labor costs in China. Moreover, Chinese manufacturers often provide guarantees against defects or damages caused by improper use or mishandling which helps reduce the potential risks incurred by buyers when purchasing these products online or at stores.
Food Service Trolley
The luggage trolley, an essential for travelers, pales in comparison to the multi-purpose food service trolleys. In contrast to the former, these are designed with a range of functions and features to enhance the user experience while transporting items from one place to another. From stainless steel construction and strong wheels to removable trays and adjustable shelves, food service trolleys offer unparalleled efficiency when it comes to handling bulk items.
| Feature | Description | Benefits |
| Stainless Steel Construction | Constructed from high-grade stainless steel for superior strength and durability. | Long-lasting material that resists corrosion and can be easily cleaned. |
| Removable Trays/Adjustable Shelves | Adjustable shelves allow users to customize the interior according to their needs. Removable trays provide space for storing additional items. | Easily store and transport a variety of items with ease of organization.
| Strong Wheels | Equipped with heavy-duty wheels for smooth maneuverability on most surfaces including ramps or stairs. | Allows for easy transportation of even the heaviest loads with minimal effort.
When it comes to selecting a food service trolley, there are several factors that must be taken into consideration such as size, load capacity, ease of use, material quality, price point etc. China is home to many reputable manufacturers who specialize in producing high-quality trolleys at competitive prices.
The range of features offered by these manufacturers make their products ideal for a wide array of applications including catering services, hotels & restaurants, hospitals & clinics etc.. With proper research and selection process, customers can find the perfect solution for their needs at an affordable price point without compromising on quality or performance.
Hospital Trolley
Hospital trolleys are an important tool in clinical healthcare, as they provide a safe and efficient means of transferring patients between different areas of the hospital. Manufacture of these trolleys is heavily regulated and must meet set standards in order to ensure that they are suitable for medical use. In China, there are a variety of manufacturers who specialize in producing hospital trolleys that meet the necessary safety criteria.
The main components of a hospital trolley include the chassis, wheels and brakes, handlebar, drawers and shelves. The chassis is typically made from stainless steel or aluminum alloy and can be designed with multiple shelves or drawers. Different types of caster wheels can be attached to the chassis according to the desired purpose, with brakes included for extra stability when stationary. Handlebars are usually adjustable and can be positioned at various heights to suit different users.
Manufacturers in China typically offer customization options on their designs, allowing hospitals to choose exactly what features they require on their trolleys. This allows them to tailor make solutions that are appropriate for their own individual needs, such as specific sizes or colors. Furthermore, many Chinese manufacturers offer warranties on their products so customers have peace of mind that their investment will last for many years.
Chinese manufacturers have a reputation for delivering high quality products at competitive prices which makes them an attractive choice for those looking to purchase hospital trolleys. With experience in both international trade and manufacturing regulations, these companies often understand what is required from buyers abroad and can help provide solutions that meet all necessary requirements.
Medical Equipment Trolley
The medical equipment trolley is an essential tool for medical professionals. It provides a safe and secure way to transport, store and organize medical supplies and equipment. The trolleys come in various shapes and sizes, from small wheeled carts to large freestanding units. They are made of durable materials such as aluminum or stainless steel, which make them easy to clean and maintain. The trolleys also feature adjustable shelves, drawers and bins for easy storage and access to the necessary items.
When selecting a medical equipment trolley, it is important to consider the size, weight capacity and features required for the particular application. In addition, it is important to select a design that meets safety standards set forth by the relevant health care organization or institution. Quality assurance testing should be conducted on all medical equipment trolleys before they are put into use.
Medical equipment trolleys manufactured in China have become increasingly popular due to their affordability and superior quality. Chinese manufacturers use advanced technology and processes in order to produce reliable products that meet stringent safety regulations as well as customer requirements. Furthermore, they provide customized solutions based on specific needs of customers which gives them an edge over other manufacturers worldwide.
With these advantages, Chinese-made medical equipment trolleys have become increasingly popular among healthcare providers across the world. They offer great value for money with superior quality materials and craftsmanship that ensures reliable performance at a cost effective price point. This has led many healthcare providers to opt for Chinese-made trolleys over those produced by other countries for their medical applications.
Infusion Trolley
It is widely believed that China is the leading manufacturer of trolleys, particularly those used in medical settings. To investigate this theory, a survey was conducted to determine which countries manufactured the most medical trolleys. The results indicated that China had the largest share of trolley production, followed by India and Taiwan.
When it comes to infusion trolleys specifically, Chinese manufacturers offer a wide range of options for healthcare professionals and other users. These include:
1. Standardized models with fixed heights and widths
2. Customizable models with adjustable heights and widths
3. Models with wheels for easy maneuverability
4. Models with drawers and shelves for storage purposes
The range of infusion trolleys produced by Chinese manufacturers are designed to suit a variety of needs and budgets. They come in various materials such as plastic nylon, stainless steel, aluminum and powder-coated steel which offer durability and longevity even when exposed to harsh environments or heavy usage. Additionally, these products are often equipped with locking mechanisms for added security, making them suitable for use in any clinical setting where patient safety is paramount.
In addition to providing durable and reliable products at competitive prices, many Chinese manufacturers also offer flexible payment terms that make it easier for healthcare institutions to purchase the equipment they need without breaking the bank. Furthermore, they provide timely after-sales services such as installation support as well as maintenance services to ensure their customers get maximum value from their purchase over time.
Material Handling Trolley
Material handling trolleys are an essential component of the manufacturing process in China. They provide a safe and efficient way to transport goods around industrial sites. These trolleys come in a variety of shapes, sizes, and materials to meet the specific needs of the user. Different types of material handling trolleys include platform, stacker, heavy-duty, and manual-lift trolleys.
Platform trolleys are designed for transporting large or bulky items such as boxes, crates and pallets. These trolleys are usually made from steel or iron and feature wheels for easy maneuverability. Stackers are designed specifically for stacking multiple items on top of one another for storage or transportation purposes; these are commonly used for warehouses or factories with high ceilings. Heavy-duty trolleys are typically equipped with larger wheels allowing them to carry heavier loads over longer distances; they can also be customized with additional features such as brakes and adjustable handles. Manual-lift trolleys allow the user to easily move the load between floor levels without having to strain their body; they can also be used in combination with an electric lift system for increased efficiency.
China is home to many manufacturers that specialize in producing different types of material handling trolleys. The majority of these companies have years of experience in this field and offer quality products that comply with industry standards. They also offer custom solutions so that customers can get exactly what they need at competitive prices. Furthermore, some Chinese manufacturers may even provide after-sales services such as installation, maintenance and repair services depending on the customer's requirements.
The diversity of material handling trolley manufacturers in China means there is something suitable for everyone's needs and budget; customers can find reliable suppliers who provide quality products at reasonable prices while ensuring their safety standards are met throughout the production process.
Utility Cart Trolley
Utility cart trolleys provide a practical and reliable way to move items from one place to another. They are commonly used in warehouses, factories, stores, commercial kitchens, medical facilities and other workplace settings. In China, there are a number of companies that specialize in producing utility cart trolleys for these various applications.
These manufacturers typically use high-grade steel and aluminum alloys to construct the frames of their trolleys. This provides them with superior strength and durability, making them suitable for a range of different applications. Additionally, many of these manufacturers offer customization options such as custom sizes or colors so that customers can get exactly what they need for their specific application.
To ensure that the finished product meets customer expectations and requirements, most Chinese utility cart trolley manufacturers perform strict quality control procedures. This includes verifying that all components meet industry standards as well as rigorous testing processes to make sure the trolley functions correctly before it is shipped out.
Finally, Chinese utility cart trolley manufacturers often offer competitive prices for their products due to their low cost production methods and efficient distribution networks. As a result, customers looking for quality yet affordable solutions can find plenty of options when shopping around for utility cart trolleys from Chinese suppliers.
Stainless Steel Trolley
Stainless steel trolleys are a popular choice among Chinese manufacturers due to their strength, durability and cost-effectiveness. Manufacturers have embraced the use of stainless steel for trolleys for its resistance to corrosion, rust and heat. This makes them suitable for both indoor and outdoor applications.
| Advantages | Disadvantages |
| Low Maintenance | Expensive |
| Strength & Durability | Susceptible to scratches |
| Corrosion resistant | Heavier than other materials |
Manufacturing processes of stainless steel trolleys may vary depending on the type of trolley being made. Most manufacturers employ welding or riveting techniques during assembly. In some cases, plastic parts may be used to reduce overall weight. Additional components such as handles, wheels and brakes can also be added to customize the design of the trolley.
When it comes to manufacturing quality assurance, Chinese manufacturers generally adhere to international standards set by ISO 9001:2015 Quality Management Systems Certification. This ensures that all products meet safety requirements as well as customer satisfaction standards. Additionally, most manufacturers offer a warranty on their products for up to one year after purchase date in case any component fails or needs replacement due to a defect.
As such, it is evident that Chinese manufacturers offer a range of high-quality stainless steel trolleys that are strong, durable and cost-effective solutions for many businesses and industries worldwide. Furthermore, with careful selection based on quality assurance criteria and customer reviews, buyers can trust that they will receive a product that meets their needs and provides long-term value for money invested.
Custom Trolley Design
Custom trolley design is an increasingly popular option for businesses and individuals looking to create a unique and branded product. Companies specializing in custom trolley design offer a range of solutions, from concept sketches to full-fledged prototypes. Designers take into account the customer's needs and preferences when creating a custom trolley, as well as their budget and timeline. The process includes creating 3D models, detailed drawings, prototyping, and eventually manufacturing.
When selecting a manufacturer for custom trolley designs, it is important to consider both the quality of the product and the services offered by the provider. China is well-known for its wide selection of manufacturers that specialize in customized products. These companies often specialize in specific types of materials such as stainless steel or aluminum, which can be used to produce robust and reliable trolleys. Additionally, these companies typically provide additional services such as powder coating or engraving that can be used to personalize the design.
The cost of producing custom trolleys varies depending on the complexity of the design and materials used. Typically, these costs are determined based on factors such as quantity ordered or size requirements. In order to ensure quality workmanship at a reasonable price point, it is important to select a reputable manufacturer with experience in producing custom products. It is also important to consider any after-sale services that may be offered by the manufacturer including repairs or maintenance if needed over time.
Manufacturers in China strive to create high-quality products that meet clients expectations while staying within budget constraints. With this knowledge in hand customers can make informed decisions when commissioning custom trolleys that will meet all their needs while ensuring long-term reliability and satisfaction with their purchase.
Trolley Manufacturing Process
The process of making a trolley is a complex and intricate one, requiring immense skill and expertise. It begins with the selection of raw materials – from steel to aluminum that are cut, shaped, welded and machined into the form of a trolley. Depending on the design, components such as wheels and handles may also be added. After this, the trolley is ready for painting or electroplating. This adds a layer of protection to the surface and helps it resist corrosion. Quality control inspections ensure that all parts fit correctly and function properly.
Next, assembly begins by attaching each part in its correct position on the frame until it is complete. The entire process must be done with precision and accuracy in order to guarantee quality products that meet customer requirements. Any defective parts are either discarded or reworked before continuing with assembly.
Once finished, any final adjustments can be made before packaging takes place. All components are then wrapped carefully to avoid any damage during transit, before being loaded onto pallets for shipping. The whole process requires significant attention to detail at every step in order to produce goods that meet quality standards and customer satisfaction levels.
Finally, the completed product is sent off to its destination ready for use an impressive feat of engineering resulting from countless hours of hard work from talented manufacturers in China.
Trolley Price
When deciding on a trolley manufacturer in China, price is an important factor to consider. As with any product, there are a variety of prices for trolleys that vary depending upon the size, features and quality. Generally speaking, the larger and more feature-rich the trolley is, the higher its cost.
For those looking for a basic model, there are several options available from low-cost manufacturers. Prices typically range from $50 to $100 USD or more. On the other hand, high-end models can cost anywhere from $500 to thousands of dollars.
The following list provides some factors to consider when determining the right type of trolley for your needs:
* Quality: How durable and reliable is the trolley?
* Size: What size do you need?
* Features: Does it come with special features or extra accessories?
When considering price as a factor in selecting a trolley manufacturer in China, it is important to weigh all of these factors against each other before making a decision. It is also helpful to read customer reviews and compare different brands before settling on one particular manufacturer. By taking into account all of these elements together, customers can find an ideal trolley at an appropriate price point that meets their needs and budget requirements.
Frequently Asked Questions
What Types Of Materials Are Used To Make Trolleys?
When it comes to the materials used to build trolleys, there are many options available. Despite this, different types of materials are often preferred over others for various reasons. This article will discuss some of the advantages and disadvantages of these materials, as well as provide a review of the most common types used in the industry.
When shopping around for trolleys, it is important to keep in mind that different materials come with various benefits and drawbacks. Here are five key points to consider:
– Durability: Different materials offer differing levels of durability and wear resistance depending on the environment they're being used in.
– Cost: Depending on what type of material is chosen, costs can vary greatly – from plastic or aluminum through to stainless steel or wood.
– Maintenance: Some materials may require more maintenance than others due to their susceptibility to rust or other environmental factors.
– Weight: The weight of a trolley depends largely on what material it's made from; lighter materials such as plastic or aluminum tend to be preferable where portability is an issue.
– Aesthetics: The look and feel of a trolley may also depend heavily on its material; natural woods such as mahogany offer an appealing aesthetic, while metals such as stainless steel may offer a more industrial look.
When considering which material is best suited for a particular task, one should consider all these factors when making their decision. For example, if durability is most important then heavier metals such as steel or aluminum might be preferable over plastic or wood. On the other hand, if cost is more important than aesthetics then something like plastic could be the right choice. Ultimately, it depends on the individual's needs and preferences for each project at hand.
The most common types of materials used in trolley production include plastics (such as polypropylene), metals (such as aluminum), and composites (such as carbon fiber). Plastic offers good strength at an affordable price point but can lack durability in adverse conditions; metal provides excellent strength but can sometimes be expensive; composite combines strength with lightness but usually comes at a higher price tag than plastics or metals alone. Each material has its own pros and cons that must be taken into consideration before making a purchase decision.
In summary, when choosing between different types of trolleys it is important to weigh up all factors carefully before making a final decision – from durability and cost through to weight and aesthetics, so that you end up with the right product for your application or project requirements.
Where Can I Buy A Trolley From A Reliable Manufacturer?
When looking for a reliable manufacturer of trolleys, there are several factors that should be considered. Quality and price are two primary criteria which should be evaluated when selecting a trolley from a manufacturer. Additionally, the reputation of the company and their customer service policies should also be taken into account. Here are some key points to consider when evaluating potential manufacturers:
Quality: Examine the quality of trolleys offered by the manufacturer. Are they made with durable materials? Are they built to last?
Price: Compare prices across different manufacturers to ensure you receive good value for your purchase.
Reputation: Consider the reputation of the trolley manufacturing company; have they been in business for long time? What do other customers say about them?
Customer Service: Make sure the manufacturer offers excellent customer service, including a warranty and return policy.
Delivery: Check delivery times and shipping costs associated with each option before making a purchase decision.
The best way to find a reliable trolley manufacturer is to research online and ask around within your network of contacts. Look at reviews and ratings on popular websites such as Google or Yelp, or ask people you know who may have purchased from that particular company in the past. Another option is to attend trade shows or exhibitions related to trolleys; this allows you to meet the personnel behind these companies face-to-face, giving you more information about their products and services before making an informed decision about where to buy from.
Online marketplaces such as Alibaba can also provide access to many different manufacturers located in China. These platforms offer an array of options for quality assurance measures such as certificates of authenticity, product testing reports and third-party inspection services which help ensure you get what you pay for when ordering from overseas suppliers.
In addition, seeking professional advice from industry experts is another great way to identify trustworthy manufacturers in China who produce high-quality products which meet your specific requirements. By doing thorough research on each option available, it is possible to make an informed choice that will suit both your budget and expectations when purchasing a trolley from a reliable Chinese manufacturer.
Is It Possible to Customize the Design of a Trolley?
Customization of products is an important factor for businesses that strive for success. It allows them to tailor the product to meet the needs of the customer. In this context, it is worth exploring whether it is possible to customize the design of a trolley.
The capability to customize a trolley varies depending on the manufacturer and their resources. Generally speaking, most manufacturers are able to provide some level of customization in terms of size, shape, color and material used to create the trolley. This may involve additional costs and production time due to increased complexity in the design. It is important for customers to communicate their requirements clearly with manufacturers in order to ensure that they get what they want.
Another option available when customizing a trolley is outsourcing parts or components from other suppliers who specialize in certain areas such as material engineering or manufacturing processes. By doing so, it can help reduce costs while also ensuring that high-quality standards are met during production. However, it requires extensive research into reliable suppliers who can deliver components within specified timelines and budgets set by customers.
When considering customization options for a trolley, customers should assess their needs carefully before making any final decisions about working with a particular manufacturer. This includes researching into their experience and capabilities in terms of customization services as well as evaluating cost and delivery times associated with these services. Through this process, customers can identify which manufacturers best meet their requirements for customized trolleys.
How Long Does The Trolley Manufacturing Process Take?
Manufacturing processes can be time consuming, and the construction of trolleys is no exception. It is important to determine how long it takes to produce a trolley in order to plan for delivery times. To gain insight into this process, one must consider the various stages of manufacture and assembly involved. As the saying goes, 'time is of the essence', so it is essential to know what timeframe to expect for producing trolleys.
The production of a trolley typically begins with the cutting and forming of metal parts. After these components are made, they are welded together and then cleaned up with sanding and painting. In some cases, additional parts may need to be added such as handles or casters depending on the design of the trolley. Once all components have been assembled, further refinement may be required such as fine-tuning the angle or alignment of certain elements. Depending upon the complexity of the project, this stage may require more effort than initially anticipated.
After final adjustments have been made, quality control checks will be conducted on each trolley before being shipped out for delivery. This includes inspecting for structural integrity as well as making sure that all components are functional and working properly. Quality control tests also ensure that all safety regulations are met before proceeding with shipment. The entire process from start to finish usually takes anywhere between two weeks to several months depending on how many orders need to be filled at any given time.
It is clear that manufacturing a trolley requires careful consideration of both time and resources in order to ensure successful completion within a reasonable timeframe. All factors should be taken into account when determining how long it will take in order to produce high quality products in an efficient manner. With careful planning, manufacturers can meet customer expectations while still delivering quality results in a timely manner.
What Safety And Quality Standards Do Chinese Trolley Manufacturers Adhere To?
Manufacturing processes require adherence to safety and quality standards, in order to ensure a product's safety for use and proper functioning. The same is true for trolleys, which are produced by manufacturers in China. It is important to consider the safety and quality standards that these Chinese trolley manufacturers adhere to when manufacturing their products.
When it comes to safety, many Chinese trolley manufacturers have adopted international industry standards in order to guarantee the security of their products. These standards can include requirements related to the materials used, construction techniques applied, how products should be tested and certified, among others. Furthermore, these manufacturers must pass rigorous inspections in order to prove that their products meet the required safety standards.
In addition to safety considerations, Chinese trolley manufacturers must also demonstrate that their products meet certain quality standards as well. Quality assurance protocols often involve inspecting items for defects before they are shipped off for sale or further processing. For instance, a factory may examine each part of a trolley for scratches or dents prior to packaging them up for delivery. Moreover, Chinese trolley manufacturers may need to obtain certifications from third-party organizations in order to prove that their products meet certain performance criteria such as durability or ease of use.
These measures taken by Chinese trolley manufacturers ensure that customers receive safe and reliable products that will serve them well over time. Through adherence to both safety and quality requirements during production processes, these companies can offer consumers peace of mind when purchasing their goods.
Conclusion
The trolley industry has grown significantly in recent years, particularly in China. This can be attributed to the quality of the materials used and the level of customization available when buying a trolley from a reliable manufacturer. In order to ensure that their products meet safety and quality standards, Chinese trolley manufacturers employ rigorous processes during production. As such, customers can expect delivery times for customized trolleys to take approximately six weeks.
Able hardware has sought to explore the truth of the theory that China is a leading producer of trolleys. By looking at the types of materials used, where to buy from a reliable manufacturer and how long it takes for delivery, it is clear that Chinese companies are capable of producing high-quality products with fast turnaround times. Furthermore, customers who wish to customize their trolleys can rest assured that their chosen manufacturer will adhere to strict standards when constructing them.
If you're in need of a trolley for your business or personal use, Able Hardware in China should be at the top of your list! They provide high-quality products, excellent customer service, and competitive pricing. With a wide range of trolleys to choose from and customization options available, you're sure to find exactly what you need. Don't settle for anything less than the best – choose Able Hardware for all your trolley needs!
More Trolley Cart: